Home
> Beavers
Beavers
Beaver Scouts are young people usually aged between 6 and 8 years old. They belong to the first and youngest Section in the Scouting family.
Easily recognised by their distinctive turquoise sweatshirts, Beaver Scouts enjoy making friends, playing games, going on visits and helping others. They meet together once a week in a Colony.
Some Beaver Scout Colonies also organise Sleepovers. These are often the first time a young person spends a night away from home.
Beavers in Redditch
We have eight Beaver Colonies in Redditch: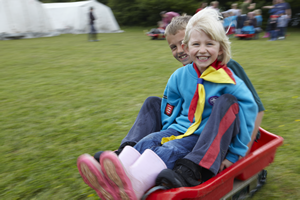 1st Astwood Bank - meet on Wednesdays
1st Birchensale - meet on Wednesdays
1st Church Hill - meet on Tuesdays
1st Crabbs Cross - meet on Mondays
1st Matchborough - meet on Wednesdays
1st Redditch - meet on Tuesdays
11th Redditch (Rowan) - meet on Thursdays
11th Redditch (Willow) - meet on Fridays
Join
If you are interested in your child joining Beavers then visit the Scout Association's website to join the adventure.
---